I just returned from Miami Beach where I saw a wonderful exhibit on Wiener Werkstätte postcards. The exhibit is called 'Postcards of the Wiener Werkstätte: Selections from the Leonard A. Lauder Collection' and it runs until March 31, 2013 at the Wolfsonian Museum. This is a slimmed down version of the exhibit by the same name that ran at the Neue Gallery in New York in late 2010. In addition to his collections of cubist paintings, Lauder has a vast collection of Postcards, 700 of which were displayed recently at the Boston museum of Fine Arts. He has stated that he began postcard collecting when he was 6 years old, searching out Wiener Werkstätte postcards in the flea markets around France and Germany. By today's standards, these cards were relatively cheap at the time as the fascination with turn of the century Vienna would come much later. Apparently the director of a prominent museum in Vienna was still using them as greeting cards as late the 1980's.
The Wolfsonian is a division within Florida University and its collection comprises approximately 120,000 pieces from the period 1885 to 1945.  It has a great collection of Posters and Graphic material, in particular Dutch Book design. Miami Beach seems an odd setting for such a museum, given its reputation for botox, celebrity gazing, and happy-hour cocktails.  This is no museum mile as one finds in New York; nevertheless, the Wolfsonian hold it's own.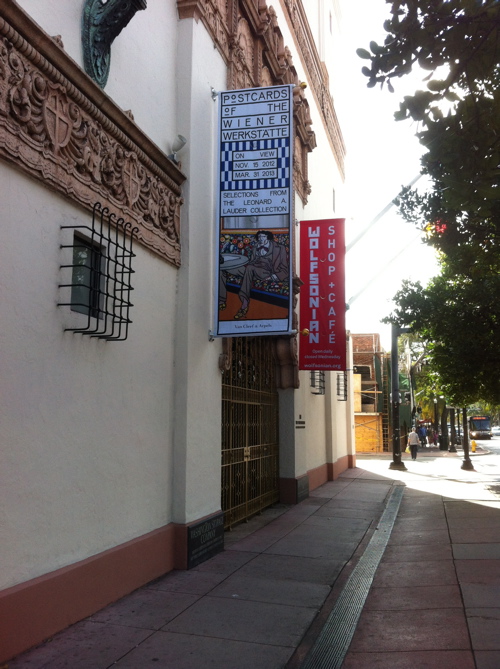 Upon entering, you see the walls of the exhibit decorated in a style reminiscent of the 1908 'Kunstschau'. Natuarlly, the exhibit begins with an exhibit on Vienna Secession graphics, with some issues of Ver Sacrum on display. Then we behold the beauty of the Wiener Werkstatte postcards, arranged under glass displays by artists and theme. I would have liked to see them arranged entirely by artists since there are such stylistic differences in each artists work and simply not enough time to properly appreciate each card.  Though it is only a fraction of the 1000 or so cards that were produced, it is still an overwhelming exhibit. Everyone will have their preference (I'll take the illustrations of Josef Diveky over Mela Koehler any day) but I am still surprised how new some of the designs appeared despite pouring over the images on-line or in books throughout the years. If you haven't had a chance to see the originals of these cards, I guarantee that you are missing out.