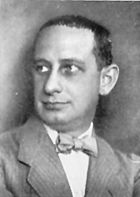 Julius Klinger (May 22, 1876–1942)
Julius Klinger was an Austrian Painter, draftsman, illustrator, commercial graphic artist, typographer and writer. Klinger studied at the Technologisches Gewerbemuseum in Vienna. Klinger was born in Dornbach near Vienna. In 1895, he found his first employment with the Vienna fashion magazine Wiener Mode. Here he made acquaintance with Koloman Moser, who later would be his teacher; Moser recommended him to the Meggendorfer Blätter.
In 1896 he moved to Munich where he worked as an illustrator for the Meggendorfer Blätter and other art journals. From 1897 to 1902 he was a collaborator to the  Jugendstil magazine Die Jugend. In 1897 he relocated to Berlin, where he worked extensively as a commercial graphic artist until 1915. Together with the printing house Hollerbaum und Schmidt, he developed a new fashion of functional poster design that soon gained him international reputation.  In Berlin he contributed to the journals Das kleine Witzblatt, Lustige Blätter and Das Narrenschiff. Being Jewish, Klinger was deported by the Nazis to Minsk on June 2, 1942, where he was killed the same year.