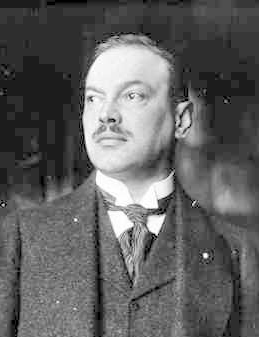 Franz Von Stuck  (Feb 24, 1863- August 30, 1928) was a German Symbolist/Art Nouveau painter, sculptor, engraver, and architect. He attended the Munich School for the Applied Arts and then  transfered  in 1881 to the "Königliche Akademie der bildenden Künste" (Royal Academy for the Fine Arts). Like many young artists, it was his drawings  for the portfolio Allegorien und Embleme ('Allegories and Emblems'), published by Gerlach and Schenk in Vienna that won him attention as an outstanding  draftsman. During this period, Stuck also illustrated for Fliegende Blätter, the magazine Jugend, further solidifying his reputation. Von Stuck also became a member of the 'Genossenschaft Pan', publishers of the art magazine 'Pan', for which he designed the cover and submitted illustrations.
In 1892 Stuck co-founded the Munich Secession which served as model for The Vienna Secession 5 years later. After winning the gold medal for the painting Die Wächter des Paradieses (The Guardians of Paradise) at the Annual Exhibition at the Munich Glass Palace in 1889, Von Stuck devoted himself entirely to painting.  At age thirty-two, he was appointed professor at the Munich Academy in 1895 and his notable students included Paul Klee, Hans Purrmann, Wassily Kandinsky, and Josef Albers.
In 1897 Stuck designed his 'Villa Stuck'  in Prinzregentenstraße whose interior decoration and the furnishings for were awarded a God medal at the 1900 Paris exhibition. In 1968 the Villa Stuck was opened to the public as a museum.