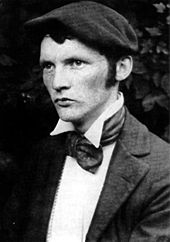 Heinrich Vogeler (1872-1942) was born in Bremen, and studied at the Kunstakademie Düsseldorf from 1890–95. His artistic studies during this period included visits to Belgium and Italy.Vogeler was a central member of the original artist colony in Worpswede, which he joined in 1894. In 1895 Vogeler bought a cottage there and planted many birch trees around it, which gave the house its new name: Barkenhoff (Low German for Birkenhof, or "birch tree cottage"). Schröder.
He made book illustrations and executed decorative paintings for the town hall of Bremen shortly before traveling to Ceylon in 1906. In 1908 he and his brother Franz founded the 'Worpsweder Werkstätte', which produced household objects. His paintings increasingly reflected his sympathy for the working class.
He volunteered for military service in World War I in 1914, and he was sent to the eastern front in 1915. After he made a written appeal for peace to the German Emperor, he was briefly sent to a mental hospital in Bremen before being discharged from military service. After the war he became a pacifist and joined the Communist Party of Germany (KPD). It was at that time that he and his wife Martha were divorced. From that point on, he wanted to work ideologically, and the romanticism of his earlier work gave way to proletariancontent. In 1931 Vogeler and his second wife, Sonja Marchlewska, emigrated to Russia. He was deported in 1941 to Kazakhstan by Soviet authorities, and died there in 1942.