If you haven't heard about the Art Nouveau Blog https://aboutartnouveau.wordpress.com, you must visit this website created by a great admirer of Art nouveau who lives in Dordrecht, Holland. It is through this wonderful blog that I learned about the Los Angeles Century Guild and their project to reprint the stunning Alphonse Mucha book Le Pater.
First published in December of 1899, Le Pater is an allegorical depiction of the Lord's prayer executed in Mucha's unique art nouveau style. Somewhat overwhelmed by the endless commissions he was receiving in Paris, designing everything from theatre posters to packaging; Le Pater was a project with a personal connection to the artist. In the context of his commercial success, it was a way for him to reconnect with his interest in the spiritual and occult while also showing the potential of art to contribute to the progress of mankind.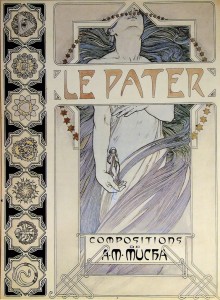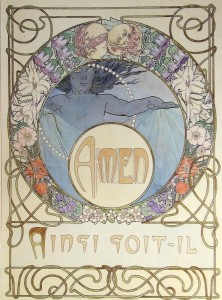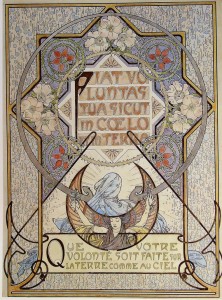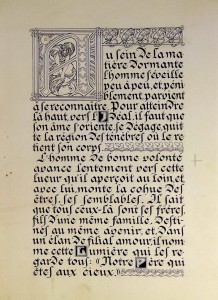 Le Pater also gave Mucha an opportunity to explore ornament and pattern. The work is awash with masonic symbols which meld seamlessly with Mucha's trademark floral decorative borders.
The influence of Mucha on The Vienna Secession cannot be understated. In addition to making him a corresponding member, they also devoted an 1898 issue of Ver Sacrum to him. Even when the Secessionist began to abandon the curvilinear style of French and Belgian Art Nouveau in favour of the geometric Arts and Crafts style of Charles Renee Mackintosh, Mucha's influence continued to be seen, particularly in the pattern designs of Max Benirschke and Koloman Moser.
Only 510 copies of this book were produced and today an original copy can fetch anywhere between $6000-9000 in auction. Now Century Guild in Los Angeles is planning on reprinting the book and present an accompanying exhibition from July 22nd to August 20th, 2016.
They've set up a kick starter campaign where you  support this project and pre-order your copy of the book.
It's about time this masterpiece was made accessible to admirers of Mucha and Art nouveau and I look forward to having a copy on my bookshelf .