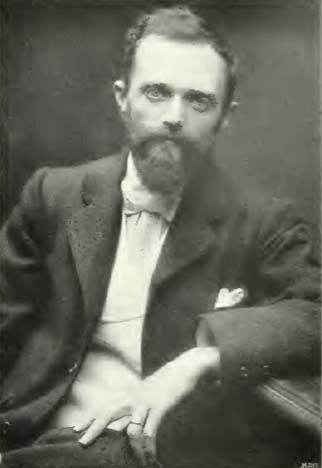 Hans Christiansen (1866-1945)
Hans Christiansen was a German painter and illustrator and a main contributer to the Jugendstil/art nouveau movement. Early on, he took an apprenticeship as a decorative painter in Flensburg from 1881 to 1885 and then enrolled in the School of Applied Arts in Munich in 1888. After a study trip to Italy in 1889, he moved to Hamburg where he taught at a technical college. At the same time he worked as a freelance decorative painter and actively contributed to the "Volkskunst-Verein", trying to bring about a reform based on the model of the Arts-and-Crafts movement.
In 1895 he gave up his job and went via Antwerp to Paris to study at the "Academie Julian" from 1896 to 1899 . In 1899 he was appointed Grand Duke Ernst Ludwig of Hesse in the Darmstadt artists' colony on the Mathildenhöhe in Darmstadt for which, alongside Joseph Olbrich and Peter Behrens, he designed furniture, ceramics, tapestries and stained glass and graphic posters. He also designed his own house in the colony which he named "Villa Rose" later sadly was destroyed in World War. During this time, Christiansen was also a regular contributor to the magazine Jugend producing numerous illustrations and covers.
From 1902 he settled Paris where he worked as a painter and from 1911 on taught at the School of Applied Arts in Wiesbaden. From 1933, his work was banned by the Nazi party because of his Jewish wife and was largely forgotten until his death in 1945.